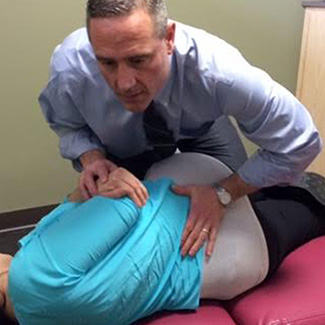 Chiropractic Care
What Is it?
At Apponaug Chiropractic Center, chiropractic care focuses on the correction of spinal misalignment or subluxations, which can cause pinched irritation of the nerve. If these subluxations become longstanding, pain and dysfunction can result. Dr. Christopher Caliri help to correct those misalignments and subluxations to help with pain and get the body into proper alignment and better function.
Conditions That Chiropractic Can Help
It is remarkable that a natural form of health care such as chiropractic can help with a range of conditions and needs. These include
Back pain
Prenatal/Pregnancy Care
Earaches
Pediatric Care
Headaches
Joint pain
Neck pain
Sciatica
Athletic/Sports and Accident injuries
Family Wellness
How Often Does Dr. Christopher Caliri Need to See Me?
Care is highly individualized based on a patient's particular needs and condition. Your chiropractor will explain what he has found and recommend the best course of treatment to resolve your issue. In general, patients will come in more frequently early on until their condition stabilizes or gets to a corrective point. The goal is then to ultimately get them on the path to wellness care.
Our Techniques
Thompson Drop Table: The Thompson Technique is a system of analysis and method of adjusting the full spine using a special table to assist. It produces precise, comfortable adjustments.
Diversified: Once misalignments of vertebrae have been identified, a manual thrust is administered at a precise direction, speed, depth and angle to correct the issue.
Gonstead: Gonstead is known as one of the safest systems of evaluating and caring for the spine. Using a small heat-sensing instrument is used to detect slight differences in temperature, revealing areas of misalignment. Then comfortable and precise adjustments can be made to the pelvis, lower, middle or upper back as needed.
Activator Methods®: The Activator Methods® uses a handheld spring-loaded instrument to delivers a consistent low-force, high-speed thrust. It's the most popular "low force" chiropractic techniques in the world.
Pettibon: The Pettibon analytical approach to chiropractic care can guide and then accurately evaluate how your body is adapting to adjustments.
Trigger Point Therapy: Trigger Point Therapy focuses on manipulation of trigger points to help reduce pain in hypersensitive muscle tissue, beginning with application of gentle pressure to the surface of the skin.
Helping Patients Feel Comfortable
If you have never been adjusted before you may feel unsure about what to expect. Please rest assured that your Warwick chiropractor will explain everything as he goes, so you know what to expect when he begins adjusting. You will be informed about how specific adjustments can help you.
If you would like to enjoy better function and overall improved health, contact us today to book an appointment.

Chiropractic Care Warwick | (401) 738-9611